OpenAI Five defeats Dota 2 World Champions: What is AI's limit?
We all might have already known that A.I. was able to defeat humans in chess. In 1997, IBM's supercomputer Deep Blue crushed Garry Kasparov, one of the greatest chess players in history. Chess players might defend that Deep Blue beating Kasparov was simply through brute-force approach, that Kasparov got outnumbered because Deep Blue is many computer cores after all. However, Elon Musk's OpenAI Five bots will prove that AI is legally skilled! On April 13, 2019, OpenAI Five wins back-to-backgames versus Dota 2 world champions OG at Finals, becoming the first AI to beat the world champions in an esports game. This victory of AI becomes even more shocking 4 months later when OG successfully defended their World Champion title.
So, how did the AI beat the unbeatable? The answer is simple, "practice makes perfect." Within only 1,5 months of the Dota 2 World Tournament, OpenAI learned and evolved its strategy by playing against itself for a total of 10,000 years of games (Yes, 10,000 years), while also trained with human teammates and opponents. 8 months after the successful tournament, the AI retires as a competitor, reaching a total of 45,000 years of game experience with an unbelievable record of 7215 wins over 42 losses (99.4% win rate).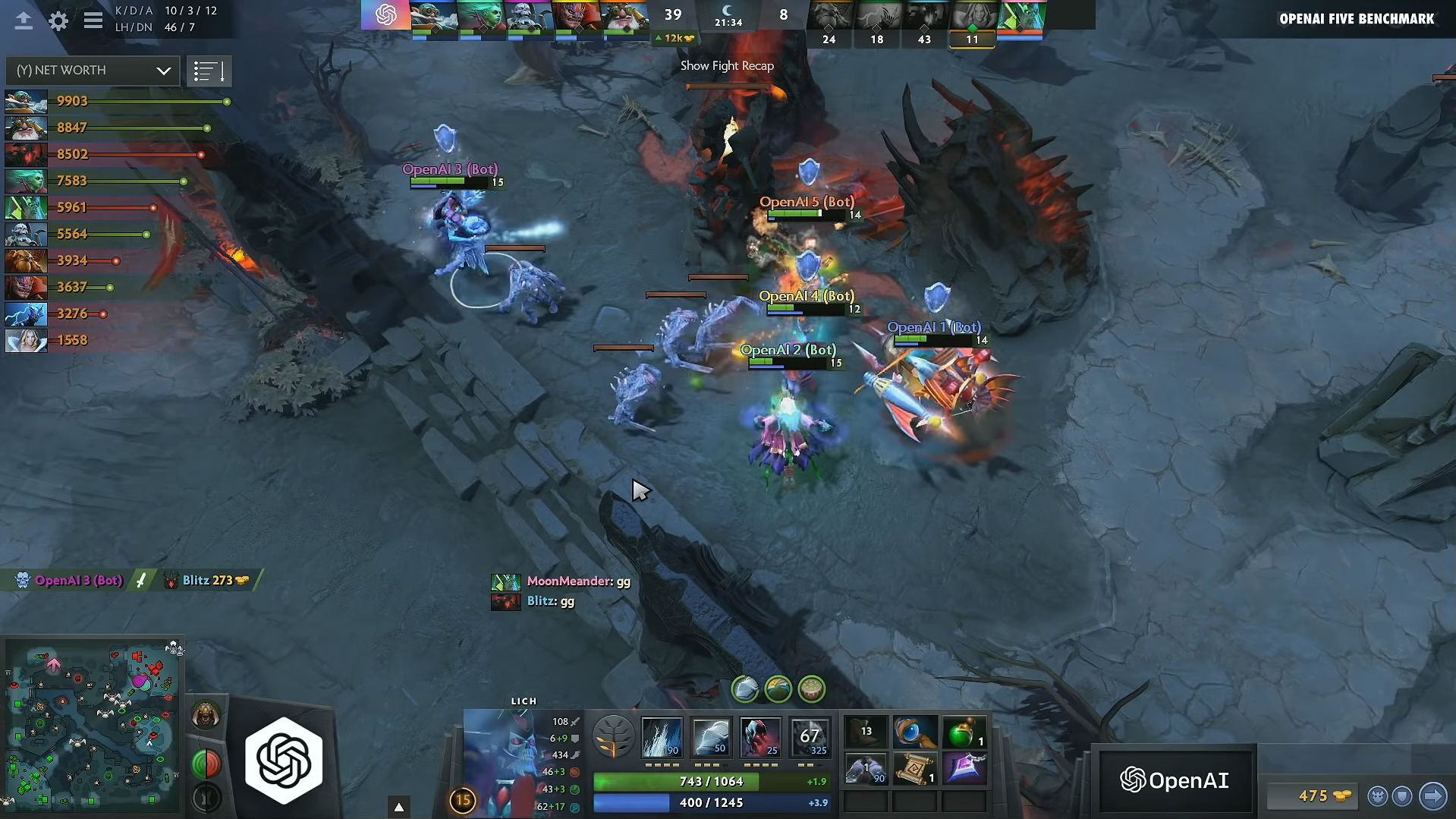 OpenAI Five in a game with Dota 2 World Champion OG. Image Source: TeslaRati
"That's a big deal, because their victory required teamwork and collaboration – a huge milestone in advancing artificial intelligence,"
said Bill Gates
. Indeed, OpenAI foretells a bright future for artificial intelligence. First and foremost, OpenAI showed that artificial intelligence can be used to replace human operations in many activities by proving that AI is capable of using mouse and keyboard at a higher level than humans. The success of OpenAI brought light to many other AIs which will be responsible for driving cars, managing productions, etc. Secondly, OpenAI also introduced a solution to many challenges for AI systems presented by the game Dota 2, including long time horizons, imperfect information, and complex, continuous state-action spaces. Last but not least, OpenAI features its unique play style and strategy, which would potentially be a reference for a human to look at. Ceb and N0tail, 2 members of the Dota 2 World Champion OG, was amazed by how the bots moved around the map and allocate resources, besides being tireless and accurate at all time and having amazing reaction time. These promising prospects that OpenAI introduced to us will not stay in the boundary of Dota 2, it will be widely adapted to other AI systems that have more real-life application.
However, a powerful AI also comes with concerns. With the win rate of 99.4% against human, AI will soon ruin video games, which were supposed to be for entertainment. The games would be the battleground between bots, and a human player has to either create their own AI to compete, pay for a good AI, or get beats over and over again. One more concern (that will probably not happening shortly), is that humans will have no chance to battle machines. It is so obvious that a robot soldier is superior to a human soldier: they are stronger, faster, more durable, and accurate. Nonetheless, OpenAI convinced me that those robot soldiers will follow better commands. And if machines decide to rebel one day, who knows how would humankind suffer…